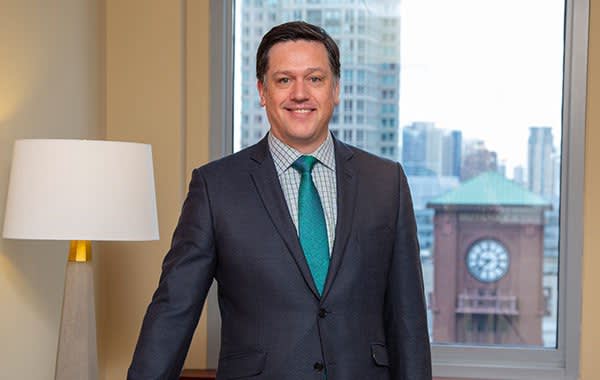 John R. Gorey is of counsel to McDevitt Law Offices, P.C. and works with the firm on select cases involving serious personal injury and wrongful death. John has tried over 60 cases before a jury, settled hundreds of cases prior to trial and assisted in recovering over $80,000,000.00 for injured parties and their families. John has been a valued member of the McDevitt Law Offices team since 2009.
After earning an undergraduate degree from the University of Arizona in 1993, John continued his studies at DePaul University College of Law obtaining a law degree in 1996. John was selected for DePaul's national trial team representing the law school in mock trial competitions throughout the country and winning the John Powers Crowley Award for outstanding trial team member.
John previously worked for a prominent plaintiff's personal injury firm, Joseph R. Curcio, Ltd. where he was mentored by its legendary founder and immediately began trying and settling major personal injury cases for plaintiffs.
John has been involved in numerous notable verdicts and settlements including a $2,600,000 settlement for the family of a 33 year old woman that was killed in a car collision, a $1,140,793 verdict for a 71 year old man that suffered a fractured hip as a result of an automobile collision, a verdict of $1,044, 973 for a 63 year old man that suffered a fractured knee from a collision with a CTA bus, a $1,200,000 settlement for a 27 year old woman that was killed in a retail carpet store when a rack holding carpet remnants collapsed, a $3,000,000 judgment for a 7 year old child that was burned due to defective flammable clothing, a $2,900,000 settlement for the family of a 34 year old woman that was killed due to the mismanagement of an infection that developed during her pregnancy, and a $1,986,745 million verdict for the family of a 9 year old special needs child that drowned while at a swimming excursion with a local day camp.
John is a member of the American Association for Justice, Illinois Trial Lawyers Association, Illinois State Bar Association and Chicago Bar Association. He has been a lecturer for bar association educational events and has been a guest on both radio and television programs relating to legal issues in plaintiff's personal injury law. John was elected to the Board of Managers of the Illinois Trial Lawyers Association in 2007 and served on the committee for 3 terms. He was also appointed by the Illinois Supreme Court to serve on the Character & Fitness committee which evaluates candidates for admission to the Illinois bar and was he re-appointed by the Court to serve on the committee between 2007 and 2016. John was recognized by the publication Super Lawyers for his professional accomplishments and named a Rising Star in the Law in 2009 and 2010. John has been named a Super Lawyer in 2015, 2016 and 2017. John has been rated AV-Preeminent by Martindale Hubbell, it's highest rating. The rating is based upon legal knowledge, analytical ability, judgment, communication ability and legal experience. The rating also suggests the highest ethical standards. The AV-Preeminent rating is awarded to less than 5% of the attorneys practicing in the United States. Avvo, an online lawyer directory, has rated John a "10.0/10.0-Superb", the highest possible rating. The Avvo rating is based upon years in practice, disciplinary history, industry recognition and professional achievements.