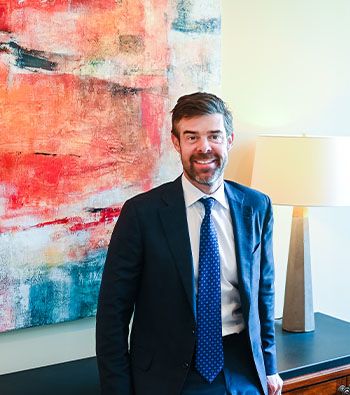 Daniel J. McDevitt has spent his entire career representing clients who were seriously injured or killed as the result of someone else's negligence. Dan joined the Law Offices of John J. Dwyer, Jr., P.C. in 1996 after graduating from the DePaul University College of Law. He was initially licensed to practice in both Illinois State Courts and Illinois Federal Courts. Dan became licensed to practice law in Wisconsin in 2006.
Dan has handled and resolved a wide range of personal injury claims through mediation, arbitration, settlement and trial. This includes claims arising from car, truck and motorcycle accidents, construction accidents, premises liability and medical negligence. In 2004, Dan was made a partner and the firm name was changed to Dwyer & McDevitt to reflect the partnership. John Dwyer retired on January 1, 2015, and the firm name was changed to McDevitt Law Offices, P.C.
Dan is a member of the American Association of Justice, Illinois State Bar Association and Illinois Trial Lawyer's Association. Dan is also a member of the Million Dollar Advocate Forum, a group of trial lawyers with experience handling cases in excess of one million dollars in value. In 2008, 2009, 2010 and 2011, Dan was named a Rising Star by Law and Politics and the publishers of the Chicago Magazine, a distinction given to no more than 2.5% of attorneys in the State of Illinois. In 2016, 2017 and 2018 Dan was named a "Super Lawyer" by the same publication.
Dan has appeared on television on the CBA program "You and the Law" to discuss the rights of pedestrians and bicyclists on the roadway. He is also written professionally on the recovery of damages from a bar or drunk driver pursuant to the Dram Shop Act.
Avvo, an online lawyer directory, has rated Dan a "10.0/10.0-Superb", the highest possible rating. The Avvo rating is based upon years in practice, disciplinary history, industry recognition and professional achievements. Martindale-Hubbell Ratings provides peer reviews of lawyers and law firms for consumers and professionals. Through a peer review rating process Martindale-Hubbell has rated Dan "5 out of 5, AV-Preeminent," its highest rating. The rating is based on legal knowledge, analytical ability, judgment, communication ability, and legal experience. The rating also suggests the highest ethical standards. The AV-Preeminent rating is awarded to less than 5% of the attorneys practicing in the United States.
Dan understands the need to be available to his clients and encourages clients to call with any question regarding their case. This dedication to personal attention coupled with outstanding results for clients separates Dan and his office from the pack.
Recent results that illustrate Dan's work for his clients include a $15,125,000.00 settlement for a motorcycle rider who suffered incomplete paraplegia as the result of a construction zone accident; $3,450,000.00 settlement for a client who suffered vision loss as the result of a surgical error; $1,950,000.00 settlement on behalf of a child whose mother was provided prescription medication in a group home when her pregnancy went undiagnosed and $1,000,000.00 settlement for client who suffered a traumatic brain injury in a truck accident.